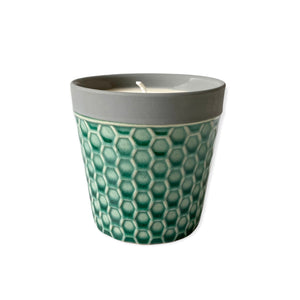 Bring the freshness of the outdoors into your home with our honeycomb design candle pot. This beautiful candle is made with natural soy wax and beautiful fragrances crafted with a blend of high quality British perfume oils. This luxurious candle looks timeless with the enchanting scent of a perfectly tended garden of mixed fruit blooms.
The candles burning time is approximately 45 hours and once the candle is finished the pot can be washed and reused as a plant pot.

Soy wax candles are a great eco-friendly alternative to paraffin candles. Soy candles burn evenly so you won't have any wax left on the sides of the jar. They disperse the fragrance beautifully and are better for the planet. Soy candles also burn 30-50% longer and do not contain the toxins that paraffin candles have.
Scent - Fruit Basket
Scented with mixed fruit blooms.
Height: 9cm
Diameter: 9.5cm